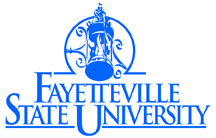 Cevdet Akbay, Ph.D.
Associate Professor of Chemistry
Department of Chemistry and Physics
Fayetteville State University
1200 Murchison Road
Lyons Science Annex 322
Fayetteville, NC 28301
Office: (910) 672-1943
Fax: (910) 672-1159
E-mail: cakbay@uncfsu.edu
OR akbayc@gmail.com

Modification and application of carbon nanotubes in separation science

Dr. Akbay (left) and Dr. Kassem at the "2009 FSU Undergraduate Research Symposium"


Do you want to have some research experience in chemistry? Dr. Akbay is looking for you. Please e-mail him at cakbay@uncfsu.edu
News
Dr. Hamid Ahmed, Dr. Akbay's former postdoctoral research associate, is now working for Georgia Perimeter College, Decatur, GA

Brittany Jackson, Harmin Herrera, and Ijeoma Ohadugha received poster/oral presentation awards at 2011 North Carolina LSAMP/RISE Joint Research Symposium, Fayetteville, NC, April 15-16, 2011
High School Scholars Nadia McPhatter, Sylvia Hodges, and Srihita Bongu are doing research with us this summer (2011).
Dr. Akbay attended a week-long NSF Sponsored Forensic Chemistry Workshop at Williams College, Williamstown, MA (June 20-25, 2010).